Specify your sales criteria according to your business terms. With this feature, you can provide specific requirements for your sales.
Go to Setup now go to Preferences and then Sales Prefs.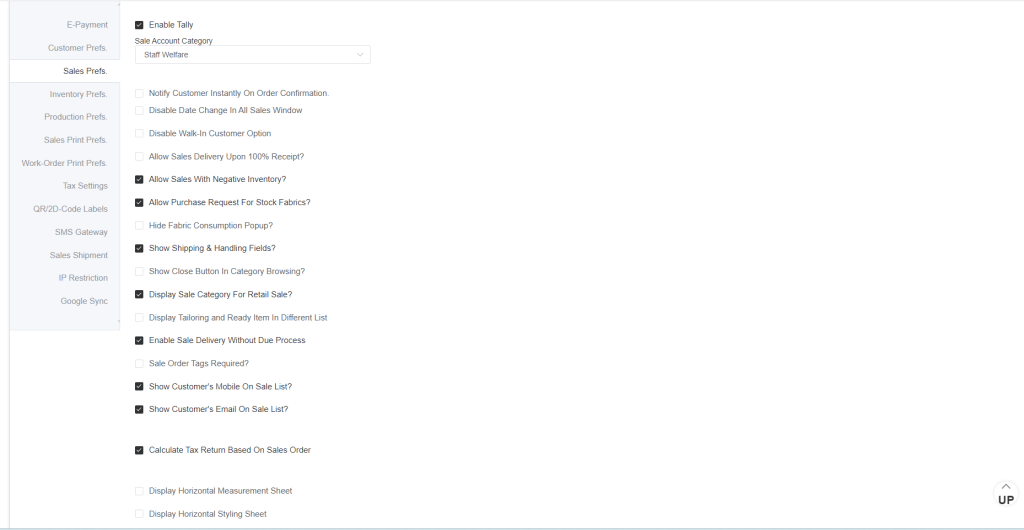 If you Enable the Tally option then you can import the data from ETA to tally software. And for that you need to select the proper account category which will be relevant to tally's account category.
Notify Customer Instantly On Order Confirmation, if it is enabled then customers will be notified once their order is confirmed.
The Disable Date Change in All Sales Windows which means if you enable this then your users will be restricted to make any changes or make backdated entries to the sales invoices or orders. And Disable Walk-In Customer Option" is if you select this then the walk-in customer option in the sales window will be disabled.
Another is to Allow sales Delivery Upon 100% Receipt. If you select this the sales order delivery can be done after the complete payment.
Allow Sales With Negative Inventory is if you enable this even if the inventory product is not in stock then also you can make sales. In Allow Purchase Request For Stock Fabric is purchase request will be generated against the fabric that is in stock. Hide Fabric Consumption Popup is, by enabling this, the fabric consumption pop-up in the sales window will be hidden.
If you enable the Show Shipping and Handling Fields option then the shipping and handling column will appear in the sales window, where you can add the charges.
The Show Close button in Category Browsing option is when you add ready items to the order and search the categories then a close button will appear and after adding items you can close the category window.
Display Sale Category For Retail Sale is if you enable this then you can select the sale type/category of retail items at the time of sale.
Display Tailoring And Retail Items In Different Lists, so if you enable this, tailoring items and ready/retail items will be shown up in different lists while taking orders.
Enable Sale Delivery Without Due Process is for direct delivery, which means the garment will not go through any production process and it will be delivered directly.
If you select the option Sale Order Tags Required then without the sale tag, the order will not be submitted.
Show Customer's Mobile On Sale List and Show Customer's Email On Sale List, by enabling this, the customer's mobile number and email id will be displayed on the sales order window.
Display Horizontal Measurement Sheet and Display Horizontal Styling Sheet, by enabling this, measurement and styling sheet in the work order window/page will be displayed horizontally.

Additionally, you can set a minimum payment percentage, which is if that minimum amount is not received from the customer then the order will not be saved and can not move for the production processes.
You can set the Delivery Buffer Day, which is during the ordering process, the delivery date is selected automatically according to the buffer days. When you select 'Five' days, it will take five days from the date of order to calculate the delivery date.
You can also set the Gift-Card validity and Loyalty Point Ratio is how many points a customer will get, if they purchase items of any particular amount.