In this search window, a proper list of selected data you desire can be searched and you will get the list of results based on your search. The searchable points are pre-given so you only need to select from the searchable points and the list of data will be displayed.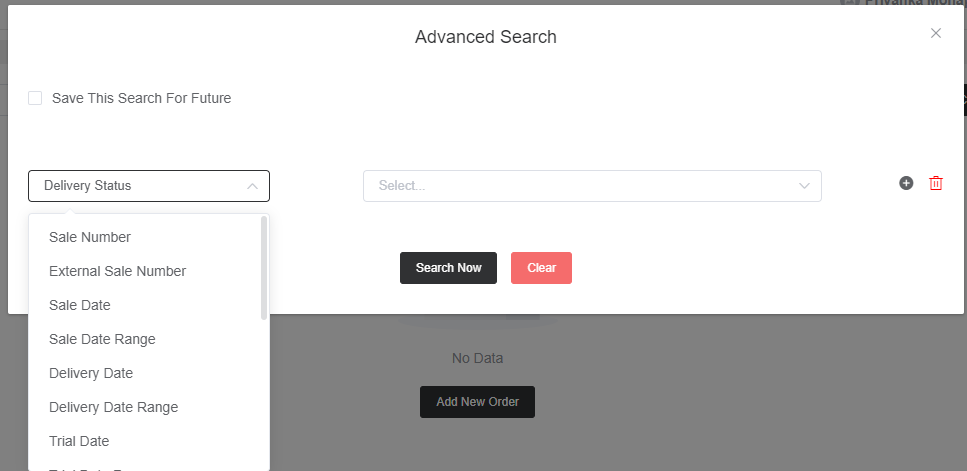 As you can see in the above image that is the advanced search window in the sales module section, and when you click on the advanced search option the above-shown list will appear. Then you need to select the points to see their details. For instance, on the left-side search bar delivery status is selected.

and on the right-side search bar, you can select "Un-Delivered" from the list to see how many items are yet to be delivered; if you select "Delivered", you will see the data of delivered items.
In a similar vein, you can search and get results for multiple points/criteria at the same time. Just click on the plus sign and add your required searchable points one by one. Then click Search Now.
Now let's move towards the other option that is on the top which is "Save This Search For Future".

So as shown in the image if you select the option, a title bar will appear and you need to give a title to your search as per your wish. The title will help you from entering all the search criteria again and again. Once you enter all the search criteria and give it a title, that will be saved, and whenever you want to see the list or data, just click on the search title and it will display the list/data.
Note that this Advance Search is for Sales Module Section and in all other modules also you will find this option. And by using this you can get selected data for your requirement.